| | | |
| --- | --- | --- |
| | | At The Picture Show |
June 2012
Chernobyl Diaries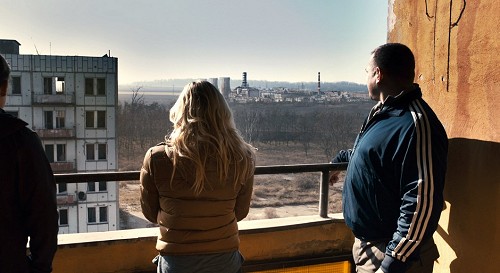 Hazardous material
'Chernobyl Diaries' does a few things right within its suffocating template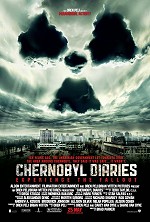 Chernobyl Diaries
Warner Bros. Pictures
Director: Brad Parker
Screenplay: Oren Peli, Carey Van Dyke and Shane Van Dyke
Starring: Jonathan Sadowski, Devin Kelley, Jesse McCartney, Olivia Taylor Dudley, Ingrid Bolsø Berdal, Nathan Phillips and Dimitri Diatchenko
Rated R / 1 hour, 26 minutes
Opened May 25, 2012



(out of four)
It's a lamentable kernel of conventional wisdom that horror belongs in the refuse pile of the cinematic landscape, where imagination and humor go to die. It's not that the genre can't be any good - it's that American studios don't feel there's any need for it to be. With low budgets and built-in audiences, they'll get their dollar back regardless. Is there a word for the opposite of quality control?
Here we have a prime example of that ghettoization in Chernobyl Diaries, which has the kind of patience and timing required of a good horror movie, but none of the style or wit. We can see shards of what may have been a fine film, if only pennies hadn't been so carefully pinched on the little extras like casting, writing, production value . . . feelings*.
(*A tip of the cap to the late Jackie Treehorn.)
Normally I'd write this off as just another mediocre movie and leave it at that, but this one showed me just enough that I regretted it wasn't any better. For one thing, director Brad Parker is careful. His attractive twentysomething tourists are being hunted by . . . well, something, and Parker only lets us catch glimpses of what's actually out there. And he follows through on that conviction for the length of the film. We rarely get a good look at the creatures; he shoots them only with his few available light sources (flashlights, phones, moonlight, etc.) and eschews close-ups in favor of more carefully executed compositions.
We eventually discover clearly enough what exactly has been going on, and what those things really are. But Parker makes sure they leave an imprint by keeping their presence ominous. If we see too much, they'll cease to be scary.
The movie also has an eerie enough backdrop to set the appropriate mood. It takes place in an abandoned city just outside the site of the Chernobyl nuclear power plant disaster of 1986. On its own, the setting provides a palpable sense of dread. Death echoes throughout the abandoned ruins, the utter silence and lifelessness of what was once a city serving as an effectively chilling anachronism.
In the film, this place - actually a town called Pripyat - is a popular underground vacation destination. Or "extreme tourism," as it's known. That moniker conjured up thoughts of a certain type of twist (one that might be interesting to explore), but alas, Chernobyl Diaries plays out in the disappointingly standard fashion of characters getting picked off one by one.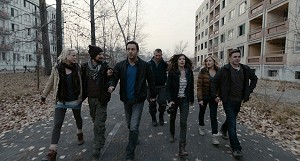 Those embarking on this fun little jaunt to Chernobyl are a group of college kids looking for a taste of adventure. There's Chris (Jesse McCartney), his special lady-friend Natalie (Olivia Taylor Dudley) and her friend Amanda (Devin Kelley). The ringleader is Chris' mischievous brother Paul (Jonathan Sadowski), who meets the trio in Kiev and insists on taking them to Pripyat before they all head off to Moscow. The four of them are joined by Michael (Nathan Phillips) and Zoe (Ingrid Bolsø Berdal), a young couple backpacking through Europe.
The plot trajectory from there should be clear. (I mean, you won't believe this, but the car breaks down right in the middle of town, just as it's getting dark. Crazy, right?!)
One of the things I'm always amused/annoyed by with this brand of horror movie is the way the characters talk. I don't think anyone who writes these screenplays has ever spent any time with a college-aged person, or even had a conversation with one. Surely there must be someone out there who can do a better job than the woeful attempts at casual, friendly, "witty" banter that goes on between these insufferable characters.
In the case of Chernobyl Diaries, the acting doesn't help matters. I wasn't aware of this originally, but apparently the Bieber-faced Jesse McCartney - who plays one of the two most important roles in the movie - is some sort of pop-star dreamboat. I can't speak to any of his other ventures, but what I can tell from this movie is that he is a terrible, terrible actor, with the looks of an 11-year-old and the screen presence of a mouse.
He, like every other member of this cast, is utterly disposable - which I guess is part of the point. If he or anyone else gave a standpoint performance, that'd be bad news, because it might raise the level of expectation for this type of horror movie. But the business model speaks for itself. Chernobyl Diaries, like so many of its predecessors, is intentionally made up of easily interchangeable parts.
Read more by Chris Bellamy