| | | |
| --- | --- | --- |
| | | At The Picture Show |
October 2006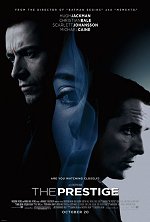 There's just no fooling us


Try as he might, we can see the cards up Nolan's sleeve in 'The Prestige'

The Prestige
Touchstone Pictures
Director: Christopher Nolan
Screenplay: Christopher Nolan and Jonathan Nolan, based on the novel by Christopher Priest
Starring: Hugh Jackman, Christian Bale, Michael Caine, Scarlett Johansson, Rebecca Hall, David Bowie, Piper Perabo and Andy Serkis
Rated PG-13 / 2 hours, 8 minutes
Opened October 20, 2006




(out of four)
"Are you watching closely?" the opening voiceover of The Prestige asks.
Yes, as a matter of fact, I was watching closely, which is what made it so easy to see through your half-baked trickery. If they wanted a good marketing slogan, they should have gone with something more along the lines of, "Don't watch too closely, because then you might figure everything out halfway through and spend the rest of the movie waiting for the rest of the idiot characters to finally figure it out, too."
Then again, I'm not sure if that would fit on a promotional Frisbee, but I digress.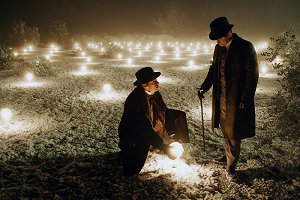 In a way, such a slogan -- which is repeated several times throughout The Prestige, teasing us and challenging us to figure out what is, in fact, obvious -- is a gutsy move on the part of the filmmakers. But by letting their intentions be known so openly, they also set themselves up for greater scrutiny and accountability.
Director Christopher Nolan and his brother, co-writer Jonathan, are not up to the challenge, as is the case with so many films whose premises depend on the slow unraveling of the "Big Reveal." It's a popular form of filmmaking, but not necessarily always a successful one. We know and expect twists and turns in The Prestige, not only because Nolan wants us to know, but because -- duh -- the whole premise is about magicians and sleight of hand.
As the complexities of the plot reveal themselves, many twists are exposed, finally culminating in the big one -- which any audience member should be able to spot a good hour or so before Christopher Nolan decides to tell us. Seriously…it's, like, right there, obvious to the extent that for a while I thought we were supposed to know and that there would be some other surprise waiting for us in the end. But there wasn't -- we were all just 10 steps ahead of the script.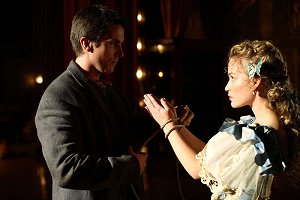 It's an enormous challenge to successfully misdirect an audience, but it's one that filmmakers keep attempting anyway, with varying success. Sometimes, an entire film is built for the sole purpose of pulling the rug out from under us. When the twist (or twists) doesn't work, it ruins the whole movie -- but when it does work (I'm sure we all have our favorite examples), the film gets even better with subsequent viewings.
Other times, a movie can overcome an unsatisfying surprise, if the rest of the movie is decent enough, and if the film's entire purpose is deeper than simply manipulating the audience. The Prestige sort of succeeds in that category; in other words, I wasn't angry after leaving theatre like I was after seeing, say, The Village. There's a lot about The Prestige to admire. The problem is it just doesn't set out to do what it really wants to do.
Indeed, if The Prestige were a magician, it would be GOB Bluth.
In fact, at one point, after a series of underwhelming explanations and revelations, Christian Bale jumps out from behind a curtain with a knife in his mouth and makes a dove disappear as "The Final Countdown" booms on the soundtrack. No, that really happens…
OK then.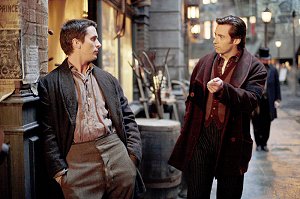 The film begins in an unexpected place, with one half of its two-headed top-lining act, Borden (Christian Bale), on trial for the murder of the other, Angier (Hugh Jackman). The story proceeds in non-linear fashion, as we flip back and forth between past and present. In the present, Borden is awaiting execution and going through his rival's old diary. In the past, in turn-of-the-century London, the two are rival magicians who quickly get embroiled in a rapidly escalating cycle of one-upmanship. The impetus is the death of Angier's wife (Piper Perabo) -- which he blames on Borden -- but it soon becomes about much more than that.
Both become consumed by the rivalry; everything else is secondary. More specifically, Angiers is torturing himself trying to figure out the secret to Borden's signature trick -- "The Transported Man." While Borden prefers to go it alone, Angiers employs the help of a lovely assistant Olivia (Scarlett Johansson), his partner Cutter (Michael Caine) and Nikola Tesla (David Bowie), a mysterious scientist (sorcerer?) and rival of a gent named Thomas Edison who may, Angiers believes, have built a mysterious machine for Borden years earlier that helped him pull of a certain marvelous feat.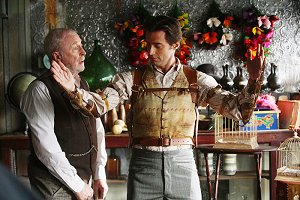 That's all I can really tell you. Everything else should be discovered on its own time. The Brothers Nolan do some interesting things with their script and pull strong performances out of just about everyone -- this only cements Bale's status as one of the most versatile actors around. And Nathan Crowley's production design is first-rate. Not surprisingly, the film is drawing comparisons to this summer's The Illusionist -- strong acting, attractive visuals, clunky story, lame conclusion. In truth, the two films are right at the same level, quality-wise. So why does one get a recommendation and the other doesn't? Well, the fact is we just don't need both -- watching one or the other is worth the time; watching both may not be.
The Prestige, while dazzlingly executed from a technical standpoint, is nevertheless a step back for Nolan, whose body of work over the last eight years suggests a burgeoning greatness. His Memento set a new gold standard for psychological thrillers, and Batman Begins did the same for comic-book movies. And his debut feature, the low-budget, black-and-white thriller, Following, was seen by few but is well worth anyone's time.
But his plans are too obvious this time around, and while this film develops at the same pace as his earlier works, the wobbly character development can't support it this time. The film is great to look at and at times generates a disturbing foreboding atmosphere and true suspense. But the purpose of all that is to build toward something -- and that something, disappointing and predictable, is enough to bring it all down.
Read more by Chris Bellamy