| | | |
| --- | --- | --- |
| | | At The Picture Show |
December 2008
Warm blood
'Let the Right One In' offers a fresh, substantive take on childhood, by way of vampires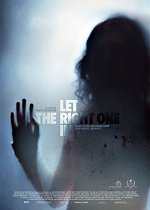 Let the Right One In
Magnet Releasing
Director: Tomas Alfredson
Screenplay: John Ajvide Lindqvist, based on his novel
Starring: Kåre Hedebrant, Lina Leandersson, Per Ragnar, Henrik Dahl, Peter Carlberg, Mikael Rahm and Karl-Robert Lindgren
Rated R / 1 hour, 54 minutes
Now playing in limited release





(out of four)
While everyone else was distracted by the hype machine surrounding the adaptation of the ultra-popular Twilight, another vampire romance was making waves of its own. Out of Sweden, of all places!
Tomas Alfredson's Let the Right One In is one of the most original - and most satisfying - takes on the vampire mythos in years. It certainly doesn't sound like a vampire movie from its title, and indeed the significance of its title doesn't become clear until late in the film.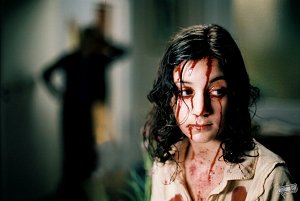 It doesn't even resemble any other vampire film I can remember. The fact that the seemingly innocent little girl, Eli (Lina Leandersson) is, in fact, a vampire is a point of emphasis, but not a point of action. There is little gore (though when it comes, it definitely leaves a mark) but instead heavy exploration of two alienated souls bonding.
Eli's is a mournful existence, full of dread at the moments when she can't control her inborn hunger, full of guilt at what she has to do to feed it. More than anything, full of confusion as to why she is, why she has come to be.
Oskar (Kåre Hedebrant) is feeling similarly disenchanted with his place. A common target of bullies at school, he has no friends and little communication with his parents. There is anger underneath the surface and Oskar may be a bit predisposed to violence, though you wouldn't know it just to look at him. He's completely uncertain of what to do with his anger, his resentment, his loneliness.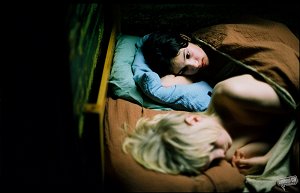 Then Eli comes along - though even she assures him when they first meet, "We can't be friends." Oskar needs no explanation; it seems a reasonable statement. The way their relationship develops - how they discover each other, save each other - is handled through quiet, poignant moments full of unease and desperation and sadness.
Let the Right One In is a poetic attempt to understand childhood isolation through the unlikely prism of a vampire motif, and the result is a remarkably perceptive fairy tale. This is childhood innocence and curiosity and fear rolled into a fable.
Alfredson's filmmaking style is suggestive rather than overt, relying on his audience's instincts and perception to feel the story rather than simply seeing it. His approach paves the way for certain scenes that are horrifyingly funny, showing us just enough to make us laugh or scream - or, ideally, both - without resorting to splattering blood in every frame. He delivers the goods, but does not want that to be the point of the violent sequences.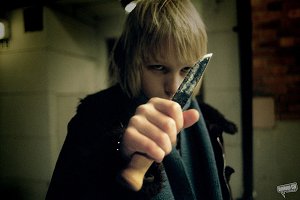 Alfredson paints a portrait of an emotional netherworld, utilizing to great effect the snowy, barren landscapes of this small, Stockholm suburb. There are moments of surprising truth in Let the Right One In - especially considering the subgenre it's naturally lumped into.
So often, films treat vampires as just another cool curiosity, like Bigfoot or unicorns or the Loch Ness Monster . . . except, you know, with the addition of sucking human blood. And that's all well and good for a while, but any such subject is worthy of deeper treatment, and Let the Right One In delivers that. It's more along the lines of Mary Shelley's Frankenstein - the original novel - than with anything you might have seen at a theatre near you.
Read more by Chris Bellamy