| | | |
| --- | --- | --- |
| | | At The Picture Show |
CHRIS BELLAMY'S
TOP TEN OF 2010

1. Never Let Me Go (directed by Mark Romanek)

2. Lourdes (directed by Jessica Hausner)

3. Black Swan (directed by Darren Aronofsky)

4. White Material (directed by Claire Denis)

5. Inception (directed by Christopher Nolan)

6. The Illusionist (directed by Sylvain Chomet)

7. The American (directed by Anton Corbijn)

8. The Temptation of St. Tony (directed by Veiko Õunpuu)

9. Dogtooth (directed by Giorgos Lanthimos)

10. Shutter Island (directed by Martin Scorsese)

HONORABLE MENTION

The Social Network (directed by David Fincher)

True Grit (directed by Joel and Ethan Coen)

Somewhere (directed by Sofia Coppola)

Greenberg (directed by Noah Baumbach)

Winter's Bone (directed by Debra Granik)

A Prophet (directed by Jacques Audiard)

Inspector Bellamy (directed by Claude Chabrol)

Scott Pilgrim vs. the World (directed by Edgar Wright)

Ondine (directed by Neil Jordan)

Catfish (directed by Henry Joost and Ariel Schulman)

Mother (directed by Joon-ho Bong)

Another Year (directed by Mike Leigh)

Please Give (directed by Nicole Holofcener)

Toy Story 3 (directed by Lee Unkrich)

The Killer Inside Me (directed by Michael Winterbottom)

ALSO WORTH SEEING
Animal Kingdom
Restrepo
Jack Goes Boating
Date Night
Iron Man 2
The Ghost Writer
The Town
The Fighter
The Red Riding Trilogy
The Secret of Kells
Carlos
Sweetgrass
Exit Through the Gift Shop
How to Train Your Dragon
Waiting for 'Superman'
Machete
Terribly Happy
Tamara Drewe
Wild Grass
Harry Potter and the Deathly Hallows: Part I
City Island
Tangled
127 Hours
Monsters
Love and Other Drugs
Enter the Void
Fish Tank
Chloe
GasLand
Let Me In
Biutiful
I Am Love
Night Catches Us
Harry Brown
Blue Valentine
The Kids Are All Right
Barney's Version
Secret Sunshine
And Everything is Going Fine
Buried
Despicable Me
Mother and Child
Everyone Else
The King's Speech
Inside Job


Best of 2010
The best of the year in sci-fi, fantasy, horror, animation . . . and everything in between
Now that the year in film has culminated with the Academy giving its top honor to yet another perfectly adequate but sure-to-be-forgotten film, and now that I've finally caught up on all the year's releases, it's time unveil the best films of the 2010. A tad belated, but it still counts, right? Right.
As it turns out, seven of my overall top ten fit into sci-fi, fantasy, horror or animation. From a dystopian allegory to a funhouse mirror, from dream constructionists to nightmarish surrealism, it was an unusually strong year for the extremes of filmmaking subjects and styles.
The best film of the year was in science fiction - the third time that's happened over the last decade or so, with Never Let Me Go joining Minority Report in 2002 and Children of Men in 2006. My overall top ten - along with honorable mentions and more - is listed in the panel to the right.
NEVER LET ME GO
Directed by Mark Romanek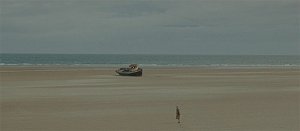 There was an eight-year hiatus between Mark Romanek's debut feature, 2002's One Hour Photo, and his follow-up, but the wait was more than worth it. The resulting film was Never Let Me Go, a pitch-perfect tone poem that delicately chronicles an alternate past in which moral and ethical conundrums have been pushed aside in favor of technological advancement. Featuring another brilliant performance from Carey Mulligan, Never Let Me Go works as both a beautiful three-pronged character study and a devastating fable on the frailties of humankind.
Click here for my full review.
BLACK SWAN
Directed by Darren Aronofsky
As it turns out, the best comedy of the year (however dark, twisted, harrowing and tragic it may have been) was a pitch-black funhouse horror flick set in the world of ballet. Darren Aronofsky reinvented himself yet again with Black Swan, a glorious fever dream that wryly satirizes show business while delving playfully into all the darkest and strangest (and most narcissistic) corners of the human psyche. Combining his own ongoing fascination with the extremes of human behavior with stylistic elements reminiscent of early Polanski, Aronofsky walked a brutal tightrope, balancing quiet intimacy with operatic melodrama.
Click here for my full review.
INCEPTION
Directed by Christopher Nolan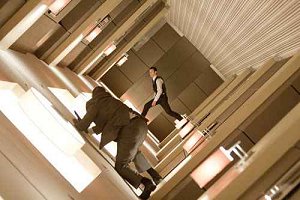 Surely the most discussed (and over-discussed) movie of the year, Christopher Nolan's Inception made intelligent science fiction cool again. What is so effective about the film's approach to its material is the way it uses the subconscious as a series of literal constructs that basically have to fight off the dreamer's true subconscious. What surreal imagery exists in the film comes in the juxtaposition between the constructed dream spaces and the anachronistic images, people and events that pop into them all too often. Inception works as an action-thriller, a puzzle, a piece of film criticism and then some, and it's one of the most complex and original pieces of filmmaking to hit the mainstream in years.
Click here for my full review.
THE ILLUSIONIST
Directed by Sylvain Chomet
As I wrote in my review, I can't for the life of me shake the last 20 minutes of Sylvain Chomet's The Illusionist. It basically just rips out my guts with a procession of images - faces on a train, the dimming lights of a run-down theatre, bustling city streets, and most importantly a particular note on a kitchen table - that add up to something devastating and unforgettable. That's not to say the rest of the movie isn't, too - because it is. Using an old Jacques Tati script, Chomet once again shows his chops both as a visual stylist (with this beautiful hand-drawn animation) and a comic master in his own right.
Click here for my full review.
THE TEMPTATION OF ST. TONY
Directed by Veiko Õunpuu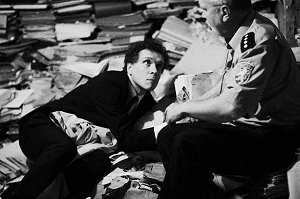 Indisputably the least-seen movie on this list, The Temptation of St. Tony is nonetheless a more-than-worthwhile experience that wasn't easily forgotten by the few of us who got a chance to see it. This is a darkly comedic surrealist movie that is as fully dedicated to its surrealist roots as it can be. Drawing acknowledged influence from filmmakers like Buñuel and Pasolini - among many others - the film is savagely beautiful in its imagery and deadpan in its absurdist humor, as we follow a middle manager (named Tony, as you might imagine) attempting to decipher the meaning or purpose of morality in a world of materialism and sexuality.
Click here for my capsule review.
DOGTOOTH
Directed by Giorgos Lanthimos
Like one or two other movies on my list, this next one can only fully be appreciated by someone who recognizes the humor in both the scenario being presented and the filmmaking itself. Dogtooth is a pitch-black deadpan comedy with allegorical underpinnings that refuse to blatantly identify themselves in any specific way. Director Giorgos Lanthimos' approach is too clever for that, as he tells the story of a family of five - six, if you count the imaginary older brother who supposedly lives outside the family's property, banished forever - that is basically an example of a grand and perverse thought experiment, perpetrated by the parents. Lanthimos' vision is delightfully unique, savagely funny and often brilliant. I can't wait to see what he does next.
Click here for my full review.
SHUTTER ISLAND
Directed by Martin Scorsese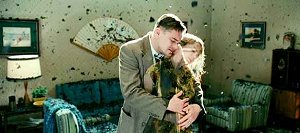 The film that I was most worried about (given its February release date) ended up being one of the most fascinating of the year. Somehow, Martin Scorsese wound up revitalizing himself once again, going into pure playfully cinematic mode with Shutter Island, a stylistic experiment that almost no one else would be capable of pulling off. Shifting between gothic noir, German expressionism, giallo, monster-movie horror, Hitchcockian suspense and various strains of surrealism, this is a virtuoso piece of filmmaking that is more than able to overcome the occasional screenplay hiccup. And the film, the fourth in the ongoing collaboration between Scorsese and Leonardo DiCaprio, may feature the latter's best performance yet.
Click here for my full review.
SCOTT PILGRIM VS. THE WORLD
Directed by Edgar Wright
There may be no 2010 film that showed such a blatant disregard for basic cinematic etiquette as Edgar Wright's Scott Pilgrim vs. the World, and that's one of its charms. For a film about a 20-something slacker who literally has to fight off his new squeeze's seven evil exes, how much more absurd could Wright make it, right? Well, plenty more absurd, as it turns out. The pure cinematic energy on display is inspiring, as Wright dashes between one style and the next with a sense of brash playfulness that perfectly reflects the world his film inhabits.
Click here for my full review.
ONDINE
Directed by Neil Jordan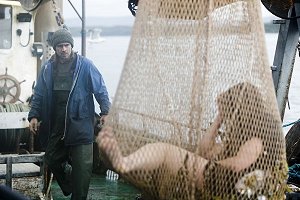 The best movie in more than a decade from writer-director Neil Jordan, Ondine is a mysterious pseudo-fantasy whose greatest mysteries (in typical Jordan fashion) are the nature of the characters themselves, rather than the plot circumstances that surround them. Telling the story of a fisherman (Colin Farrell) whose luck changes with the sudden appearance of an alluring woman (Alicja Bachleda) who may or may not be a mystical "Selkie," Ondine is a beautiful and moody character piece that carefully and gracefully uncovers its darkest undercurrents.
Click here for my full review.
TOY STORY 3
Directed by Lee Unkrich
Toy Story 3 serves as a lovely coda to a franchise that began 15 years earlier, and whose most significant accomplishment may be putting Pixar on the map and allowing it to go on to bigger and better things. This may be the best of the trilogy, a consistently funny and nostalgic tribute to characters we've grown to love and a fitting close to an important chapter not only in those characters' lives, but in Pixar's legacy. And Mr. Potato Head's Picasso-esque tortilla sequence has to go down as the best scene in this series' history, right?
Click here for my full review.
IRON MAN 2
Directed by Jon Favreau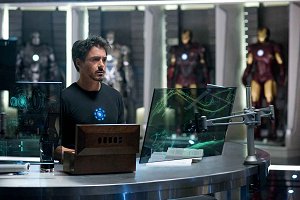 I was apparently one of the few who felt that Iron Man 2 was actually better than its predecessor. Not only does it end in vastly superior fashion - the action finale boasts much more creativity and style than did the finale of the original - but it has the Rockwell/Rourke Factor. Yes, Sam Rockwell and Mickey Rourke make for such a marvelously funny villainous duo that I'm more than willing to forgive the nonsensical party fight scene between Tony Stark and War Machine.
Click here for my full review.
THE SECRET OF KELLS
Directed by Tomm Moore and Nora Twomey
An old Irish folk tale gets a memorable cinematic adaptation in The Secret of Kells, a gorgeous piece of hand-drawn animation and a Best Animated Film Oscar nominee last year. The stylistic dexterity from sequence to sequence, the dreamlike pastels, the compositions of bold and exaggerated contrast, the unique character design, all of it - the film is so great to look at, I could enjoy myself even with the volume turned down.
Click here for my capsule review.
HOW TO TRAIN YOUR DRAGON
Directed by Dean DeBlois and Chris Sanders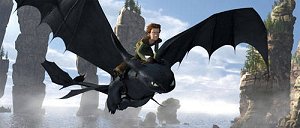 No doubt buoyed by the "consultation" of cinematographer extraordinaire Roger Deakins (who also worked on WALL-E and this year's Rango), How to Train Your Dragon is a great-looking action fantasy that takes a rather run-of-the-mill coming-of-age prototype and injects it with a unique sense of warmth and humor. While it may not be up to par with Pixar's best, it certainly suggests that DreamWorks is getting its act together - this is easily the studio's best animated feature since the original Shrek.
MACHETE
Directed by Robert Rodriguez and Ethan Manquis
I will never look at a small intestine the same way again after Machete, a gleefully over-the-top exploitation revenge flick that touches on the immigration debate, religion and American culture in hilariously tongue-in-cheek fashion. Sure, maybe not everything in the movie works, but more than enough sticks to make for some great, low-down, dirty fun.
Click here for my full review.
HARRY POTTER AND THE DEATHLY HALLOWS: PART I
Directed by David Yates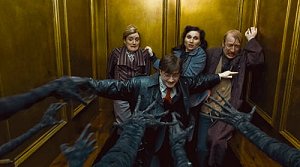 Despite too often feeling more like a set-up than its own film, Harry Potter and the Deathly Hallows is nonetheless another impressive effort in this series from David Yates. Aside from some dubious special effects, the production values are astounding - particularly the Nazi- and Red Scare-inspired propaganda we see floating around Hogwarts and beyond. Even more impressive is the film's astonishing animated sequence - The Tale of the Three Brothers - which on its own would be the best short film of the year.
Click here for my full review.
TANGLED
Directed by Nathan Greno and Byron Howard
Disney Animation may finally be getting back on its feet after Tangled, which even with its computer animation manages to feel more like a throwback to the golden era of hand-drawn Disney fairy tales than anything else. After overcoming its horrid opening number, Tangled quickly hits its stride with an acerbic sense of humor and a visual elegance that culminates in the mesmerizing lantern sequence that is far and away the film's best moment.
Click here for my full review.
Read more by Chris Bellamy