| | | |
| --- | --- | --- |
| | | At The Picture Show |
May 2012
The Pirates! Band of Misfits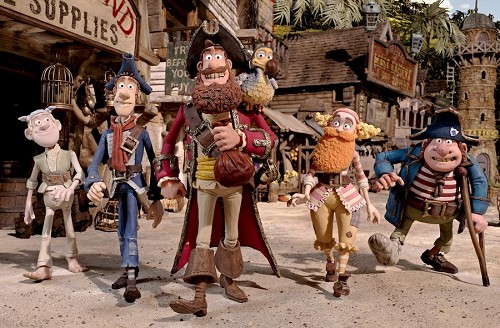 Bootylicious
'The Pirates! Band of Misfits' is another charming Aardman triumph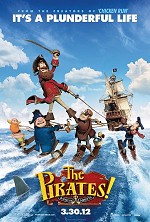 The Pirates! Band of Misfits
Columbia Pictures
Director: Peter Lord
Screenplay: Gideon Defoe, based on the book The Pirates! in an Adventure with Scientists, by Defoe
Starring: The voices of Hugh Grant, Martin Freeman, Imelda Staunton, David Tennant, Salma Hayek, Anton Yelchin, Jeremy Piven, Brendan Gleeson and Ashley Jensen
Rated PG / 1 hour, 28 minutes





(out of four)
There is a key distinction to be made. There are movies that make sure to include lots of jokes, and then there are movies that actually do comedy. I'm not necessarily knocking the former category - there have been plenty of movies that didn't totally work as full-bodied comedies but which nonetheless featured enough gratuitous jokes to make it all worthwhile.
But there's something to be said for a film that really understands the craftsmanship of comedy, that turns nuggets of ideas into inspired comedic threads and setpieces. It's more rare than you might think, and it's even more rare among animated movies. Aardman, the British animation studio, is something of an antidote to the kinds of tired formulas you regularly see from non-Pixar animation studios - the concoction of bawdy-but-childproof humor, pop-culture references and by-the-numbers adventure that always ends up feeling overly manufactured.
Aardman pictures never feel that way. They never feel focus-grouped. The writers and filmmakers are masters of comic invention and irony, from their sight gags to their elaborate and absurd plot details.
The studio's newest offering, The Pirates! Band of Misfits, may not quite measure up to the very best of Aardman (any number of Wallace & Gromit outings, Chicken Run, Arthur Christmas), but it still has all the characteristics we've come to expect. The same crackpot comedic sensibility and penchant for out-of-nowhere absurdisms. The same manic pacing to its climactic sequences.
Much credit goes to Gideon Defoe, the writer of both the screenplay for The Pirates! and the book (part of a series) it was based on, and whose style of humor seems to be a perfect fit with Aardman.
The film centers around a shabby but lovable group of pirates with hilariously literal monikers - among them The Pirate Captain (voiced by Hugh Grant), The Pirate with Gout (Brendan Gleeson), the gloriously Monty Python-esque Surprisingly Curvaceous Pirate (Ashley Jensen), The Pirate with a Scarf (Martin Freeman), The Albino Pirate (Anton Yelchin) and The Pirate Who Likes Sunsets and Kittens (Al Roker). (One of my only complaints with the movie is that there seems to be some unfulfilled potential in the characterizations of, and interactions with, the crew members. But maybe I'm saying that because the scenes and jokes we do get with the crew are just that good.)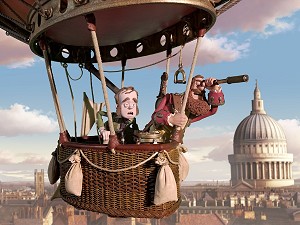 The Pirate Captain lords over his crew with something well short of an iron fist - mostly it's just mutual loyalty and affection. He's not a particularly good pirate (he has no mean streak to speak of); neither he nor anyone on his crew have much of a knack for it. They sail the Seven Seas, sure, and they get their occasional booty - but it's usually by accident. Even their boat is something of a relic.
But, to their credit, these pirates are masters of disguise. And The Pirate Captain does indeed have a lustrous beard - which, as it happens, is one of the key prerequisites for the annual Pirate of the Year contest, which our hapless hero has tragically never won. Being predisposed to obliviousness and delusion, The Pirate Captain once again enters the contest, insisting that his lifetime 0-fer actually increases his odds of winning this time around.
Of course, his pirating skill is nothing compared to that of his main competitors - Black Bellamy (no relation), Peg Leg Hastings and Cutlass Liz. Considering the award is largely dependent on who has the most impressive haul of treasure (sorry, I can't keep on saying "booty" without laughing mischievously, especially when one of the pirate competitors is voiced by Salma Hayek), The Pirate Captain is at a bit of disadvantage.
However, he has something of a feather in his cap - quite to his surprise - in the form of his plumpy pet parrot, which happens to be not a parrot at all but the world's last surviving dodo. This fact is discovered by Charles Darwin (David Tennant), who sees it as a golden opportunity to finally earn the respect he deserves from the scientific community by entering the discovery in - you guessed it - the Scientist of the Year competition. (The scientists' verdict on the dodo discovery? "Makes electricity look like a pile of crap!")
Despite his best efforts to swipe the bird from the pirates, Darwin ultimately has to enlist their help on the mainland - which complicates things, because the competition is happening right under the nose of Queen Victoria (Imelda Staunton), who has an irrepressible hatred of pirates.
On their own, those various comedic setups are pretty inspired already, but the real magic is in the way the filmmakers bring everything off, allowing the comedic threads to build upon and complicate one another. It's a good comedy that can continually raise the stakes and increase the narrative chaos, but ultimately bring it all home. In that way, Aardman rarely, if ever, disappoints.
Read more by Chris Bellamy