| | | |
| --- | --- | --- |
| | | At The Picture Show |
July 2012
Beasts of the Southern Wild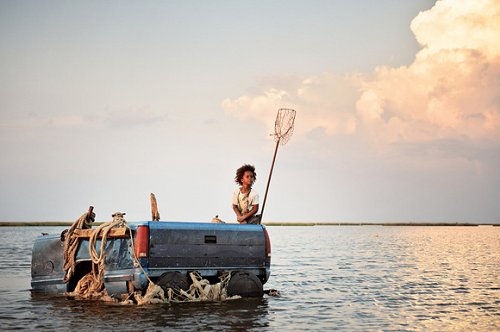 Forces of nature
Lyrical, transcendent 'Beasts of the Southern Wild' is an impeccably detailed slice of modern mythology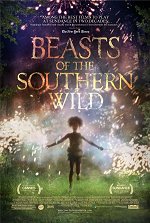 Beasts of the Southern Wild
Fox Searchlight Pictures
Director: Benh Zeitlin
Screenplay: Benh Zeitlin and Lucy Alibar, based on the play Juicy and Delicious, by Alibar
Starring: Quvenzhané Wallis, Dwight Henry, Lowell Landes, Pamela Harper, Gina Montana and Levy Easterly
Rated PG-13 / 1 hour, 31 minutes
Now playing in limited release





(out of four)
The forgotten and the displaced have been pushed out to the edge of the world by a great flood. There is no ark - except a sort of inside-out version, a bayou floating around the edge of civilization known as The Bathtub, its inhabitants a tightly knit community of fierce independents, equal parts joyful and unruly.
It's only fitting that a film which indulges and celebrates myths and mythmaking is itself a kind of inverted re-imagining of one of the most famous and enduring mythological stories we have - not to mention the most famous natural disaster in all of literature. Combine that allegorically with Hurricane Katrina, the most famous natural disaster of modern times, and you get the majestic, genuinely magical backdrop of Beasts of the Southern Wild, director Benh Zeitlin's virtuoso debut feature.
Working with a makeshift cast and crew (who make for an invaluable team of collaborators) Zeitlin has delicately fastened together a wholly original fable from fairly traditional parts - the cosmic balance of the universe, the indomitability of the human spirit, etc. - and made them feel urgently real.
A great deal of that urgency rests on the shoulders of newcomer Quvenzhané Wallis, a 6-year-old firecracker whose uncanny naturalism provides the film with its perfect centerpiece. She plays a wild child of the bayou named Hushpuppy, raised by her father Wink (Dwight Henry), a man who drinks too much and screams too loud but has a forceful devotion to his daughter's protection. Their emotional bond is unbreakable, but his tough love is sometimes too tough. In his mind, it's necessary - he's only preparing her for the type of world she will some day inherit on her own.
The levees erected along the banks of The Bathtub have relegated Hushpuppy, Wink and everyone else second-class citizens - or, perhaps more accurately, not citizens at all but outcasts, abandoned and left for dead. Salvation comes only in the form of their own defiant self-reliance, which they cling to like the life preserver the modern world never bothered to throw their way.
Beasts is seen through Hushpuppy's gaze and filtered through her imagination, her stream-of-consciousness voiceover offering interpretations and insights both childish and prescient. Residents of The Bathtub have their own myths and legends, not the least of which is that of the aurochs - ancient creatures renowned for their ferocity and brutality and who, in one of the film's many gently fantastical flourishes, have thawed from the ice and are making their way back toward civilization. Though many elements of the movie reminded me of Where the Wild Things Are (both Maurice Sendak's book and Spike Jonze's adaptation), the scenes with the aurochs make the case for that comparison most obviously.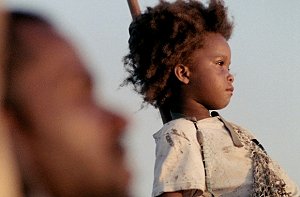 There's an intense musicality to the film's rhythms, both in Zeitlin and cinematographer Ben Richardson's beautiful compositions of Southern Gothic portraiture, as well as the score (which, naturally, infuses various New Orleans elements and which also has shades of Nick Cave's work on The Assassination of Jesse James by the Coward Robert Ford) and narration. The voiceover is just another series of beats, just another instrument - and it works on an emotional level without being too precocious. Hushpuppy is not telegraphing the story nor dictating the terms on which we take it, but simply dealing with the realities she's faced with, organizing it in her mind, reconciling that which her innocence prevents her from fully understanding.
It's a balancing act, sure, but Zeitlin and co-writer Lucy Alibar (from whose play Beasts is loosely adapted) use it intelligently and with real purpose. They also blend it brilliantly with the film's visual cues, which have a sense of ethereal wonder that has drawn deserved comparison to Terrence Malick and early David Gordon Green.
Everything on screen is infused with the spirit of myth, each moist, orange and brown-tinted frame subjectively capturing the images and moments the film is affectionately weaving together to create its own myth. This is a celebration of personal history wrapped up in a fairy tale, one that glides along unpredictable currents like the slapdash riverboats and shacks in which the characters make their home. Even the embedded memories and stories are embellished with the weight and mystery of legend.
Throughout the film we get the sense we're witnessing a piece of classic mythology unfold before our eyes. It feels like discovery, and it leads to a magnificent finale that strikes a gently powerful note of courage and human fortitude (in a moment of pseudo-surrealism) before concluding on a devastating (yet uplifting) emotional chord.
Beasts of the Southern Wild is both a sincere ode to the spirit of New Orleans and the southern Delta, and a startlingly unique piece of magic realism. There is uncommon poetry here - and a sense of ecstatic joy that's infectious.
Read more by Chris Bellamy