| | | |
| --- | --- | --- |
| | | At The Picture Show |
August 2013
Turbo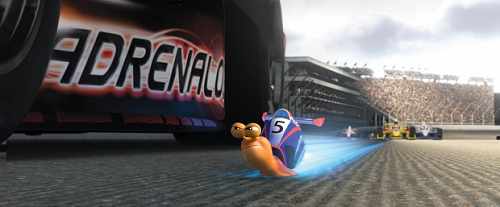 Report: 'Turbo' under fire for PED violations
Auto racing's newest star may have some explaining to do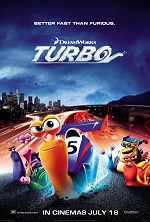 Turbo
20th Century Fox
Director: David Soren
Screenplay: Darren Lemke, Robert D. Siegel and David Soren
Starring: The voices of Ryan Reynolds, Paul Giamatti, Michael Peña, Samuel L. Jackson, Bill Hader and Luis Guzmán
Rated PG / 1 hour, 36 minutes
July 17, 2013



(out of four)
INDIANAPOLIS, Ind. - Controversy struck the auto-racing world today, as one of the rising young stars of the Indy Car circuit has found himself embroiled in an ongoing investigation regarding the use performance-enhancing drugs.
Just two months after Turbo made history - and warmed hearts - by becoming the first snail to compete in the Indianapolis 500 (indeed, the first gastropod of any kind), new revelations have cast a shadow over his sudden ascension to prominence in the racing world. Damning allegations that his abilities were not the result of an obscene genetic mutation but were in fact due to the assistance of illegal chemical substances have put his fledgling career in jeopardy. Now, what once seemed like a feather in auto racing's proverbial cap has turned into a real black eye for the sport at large.
Until now, Indy Car had been largely shielded from the public shame plaguing the likes of, among other sports, Major League Baseball, which has seen a litany of its brightest stars brought down by the taint of anabolic steroids and human growth hormone. But Turbo's story - once so inspiring, and not at all stupid - threatens to cast suspicion on auto racing for the foreseeable future.
Sources close to IGMS can confirm that just a few short weeks before Turbo burst onto the national scene, he was a mere suburban garden snail who traveled at normal snail speed. In fact, video footage confirms that his record time for completing a 36-inch course was 17 minutes, a mark set earlier this spring.
However, his grumpy brother Chet confirmed that Turbo was always obsessed with speed and racing throughout his life, religiously watching footage of his idol, Indy Car icon Guy Gagné.
Sources say that, on the heels of a particularly embarrassing tomato-based gaffe in the front yard of his suburban home, Turbo left the garden despondent one evening, eventually finding himself on the edge of a bridge overlooking the highway. Details are a little hazy, as there are conflicting reports about what happened afterward. Depending on the report, he either jumped or fell, and wound up lodged in the supercharger of a heavily modified street racer where he nearly drowned in a sea of nitrous oxide that inexplicably gave him the ability to move between 200 and 250 miles per hour. Foul play was not suspected.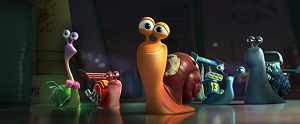 Investigators pinpoint this moment as the turning point in Turbo's life, and the impetus for his whirlwind racing career. It is illegal for any racer or automobile to ingest nitrous oxide, which would put Turbo squarely in the crosshairs of the competition committee. Sources have confirmed that Turbo failed his post-race steroid test, and rumors are circulating that he is facing a lengthy suspension. Beyond that, the larger question remains whether he will still be able to compete at such a high level without his nitrous boost.
Turbo's legal representation insists that their client has committed no such violation - but nor, they say, were they informed of the proper competition rules prior to the race. They say their client will be proven innocent; however, Turbo's background certainly gives the rumors added substance.
Those who grew up with Turbo claim he was never much faster than any of the other snails in the garden - just more annoying and delusional. His whole life, he contended that he would one day compete on racing's biggest stage, and that he could do anything as long as he believed in himself, a belief that is complete and utter bollocks given that he is a snail. If this were, say, an animated movie - and it somehow tried to frame this story around the old "you can do anything you put your mind to!" chestnut, even though the dream is accomplished only through dumb luck and a lot of nitrous oxide - you might think it was the stupidest idea for an animated movie since that time they made garden gnomes act out Romeo & Juliet.
As so often happens with wayward youth hellbent on impossible dreams, Turbo fell in with the wrong crowd - in this case, a group of other similarly delusional snails occupying a run-down shopping center in Van Nuys, California. Investigators believe that these so-called friends - among them Whiplash, Burn, Skidmark and Smoove Move - fed and enabled Turbo's delusion, and perhaps may have even continued to provide him with performance-enhancing drugs.
One might think that natural suspicions about Turbo's already-legendary Indy 500 performance would have sprung up almost immediately. However, many were enchanted by his inspirational story involving his friend and racing sponsor, Angelo, the co-proprietor of the struggling and terribly named Dos Bros Tacos. With the attention Turbo garnered, Angelo's business began to thrive; the two clearly shared a bond that could never be broken.
But the feel-good story of the year may not have such a happy ending. Many of Turbo's sponsorships are already pulling out in the wake of the budding PED scandal, and those close to the situation suggest he may never race again. The investigation is expected to conclude in the coming days, with a potential suspension levied against the young star shortly thereafter.
Turbo could not be reached for comment.
Read more by Chris Bellamy