| | | |
| --- | --- | --- |
| | | At The Picture Show |
December 2014
Exodus: Gods and Kings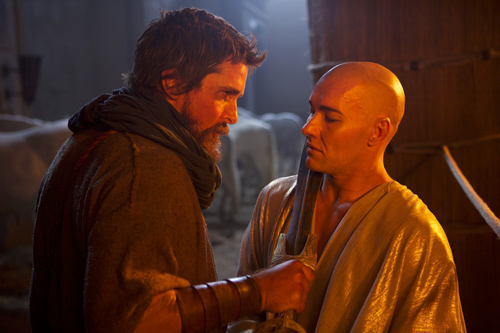 The imitation epic
Ridley Scott's 'Exodus' is a hollow, silly and cheap-looking impersonation of a biblical epic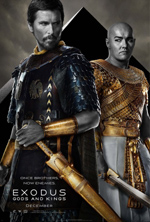 Exodus: Gods and Kings
20th Century Fox
Director: Ridley Scott
Screenplay: Adam Cooper, Bill Collage, Jeffrey Caine and Steven Zaillian
Starring: Christian Bale, Joel Edgerton, María Valverde, Ben Mendelsohn, Aaron Paul, Ben Kingsley, Isaac Andrews and John Turturro
Rated PG-13 / 2 hours, 30 minutes
December 12, 2014



(out of four)
The great film critic Jim Emerson has long promoted the practice of double-featuring, the idea being that when you see a pair of movies back to back - any two movies, regardless of whether they seem to have any explicit connection - they invariably illuminate one another in myriad, and often unexpected, ways. The double bill, as Emerson puts it, "[creates] a kind of conversation between the two films."
The situation that brought this to my mind doesn't exactly fit his scenario, but the general idea still applies. I didn't see the new films by Ridley Scott and Peter Jackson back to back, but I did see them in close proximity and - perhaps more relevantly - wrote about them on the same day. And what struck me was the similarity of my reactions to Jackson's The Hobbit: The Battle of the Five Armies and Scott's biblical epic, Exodus: Gods and Kings. (I hope you'll forgive me if I repeat certain points made in my Hobbit review.)
In both cases I see a filmmaker whose excesses have gotten the better of him, and in both cases I found a film that's essentially a less disciplined, less interesting version of similar movies that preceded it. In Scott's case, Exodus is another of the action-oriented historical epics for which he has become known over the years (particularly the last decade and a half). I still count myself as a fan of Gladiator, and the director's cut of Kingdom of Heaven is even better (and, in fact, one of the best films of Scott's entire career). But since then? One of the more disappointing movies in recent years was Scott's take on Robin Hood, which wasn't so much a new interpretation or a modern revitalization, but flabby attempt to do a Nottingham version of Gladiator.
And now we get Exodus, which similarly feels like a warmed-over rehash of better movies. What comes across most distinctly is the film's reliance on its scope and sense of spectacle at the expense (literally, one can assume) of everything else. Spectacle alone can be an empty experience, and this movie is exactly that. (It feels destined to be remembered as one of those misguided Hollywood curiosities, complete with the A-list cast in preposterous makeup.)
What's great about a successful epic is how it can go so big with everything - big emotions, big stakes, big battlefields, big personalities. When all of those things benefit from being magnified, it's like opera. Bold, passionate, melodramatic, outrageous, overblown. Exodus works in reverse. Its scale magnifies its own shallowness. It doesn't even have the courage to go overboard - a tack which has served plenty of past epics, including Scott's own, rather well - or swing big. It floats along, dispassionately hitting every beat, like the rote recitation of a Sunday School story that's been told one too many times.
That's not a knock on biblical stories - far from it. Look no further than 2014's other biblical saga, Darren Aronofsky's Noah, for an example of a movie that can revitalize the familiar. For all its faults, there's an unmistakable vision to it - a madness to it, not unlike the madness of its protagonist's vision - that is oddly lacking in Exodus. Whereas the best of its genre predecessors can make the ridiculous sublime, this film accomplishes the opposite.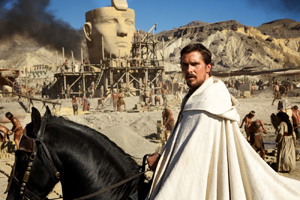 The thing about it is, it's just so damn straight-laced. Here is a film, and story, of fundamentally divine power and breadth, and yet it plays out as oppressively somber and tedious. Here's what we're working with here: Moses (Christian Bale) being cast out of Egypt. Being betrayed by the close friend, Ramses (Joel Edgerton), that he loved like a brother. Falling in love and starting a family while exiled. Communicating with God (in the guise of a young boy played by Isaac Andrews). And finally leading an uprising of his people against the Egyptians. All of that ... and yet. Where's the sense of passion? Of tragedy? Of horror? Of will? The film gets one of its only jolts of energy during its middle portion, during a genuinely eerie Ten Plagues sequence that threatens (albeit temporarily) to actually make the movie worthwhile. But once the quasi-surrealism of those scenes passes, we're right back in perfunctory plot mode, when neither Moses nor Ramses nor Ridley Scott seem particularly concerned with anything that's happening.
But what's more egregious is how the film, like Jackson's latest Hobbit, looks - at times, anyway - so exceedingly cheap. Like many other (better-looking) films, it was apparently shot on the RED Epic Dragon; and while I certainly don't know Scott and cinematographer Dariusz Wolski's filming or post-production process, there's a distinctly video-ish quality to the images, making the whole thing feel like a rather awful application of digital. When, during the plague sequence, the water turns to blood, it is the most garish, fake-looking red you'll ever see in a feature film.
In fact, water is kind of the film's Achilles' heel. The Red Sea sequence - Exodus' biggest and probably most expensive - is a catastrophe simply because the water is so thoroughly unconvincing. Nothing is less threatening than a fake-looking CGI tidal wave. (Just ask anyone in The Perfect Storm.)
The sets and costumes are tawdry - I'm assuming this is not a subtextual comment on the Egyptians' sense of fashion and interior design - in a way that makes the whole of Exodus: Gods and Kings look like a Vegas casino version of a biblical epic. Simultaneously lavish and cheap. (Just look at the poster at the top of the page. It looks like Bale and Edgerton picked up cheap plastic costumes at Caesar's Palace and had their friend take a snapshot in front of the Luxor, doesn't it? That is an accurate representation of the look and feel of this movie.)
I've made no secret of my affection for audacious, ambitious filmmaking, even when it turns out to be partially, or even largely, misguided. So for me, Exodus already had a head start. But over its 150 minutes it quickly and dramatically lost that good will. What I see here is not a film of great vision and ambition, but a crass facsimile of the two - a movie that superficially appears to be a splashy epic but, upon closer inspection, is little more than an expensive and hollow imitation.
Read more by Chris Bellamy