| | | |
| --- | --- | --- |
| | | At The Picture Show |
January 2017
Underworld: Blood Wars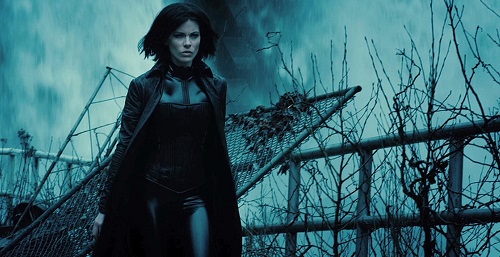 A Blood War, remembered
The vampire and Lycan warriors of this legendary skirmish share their stories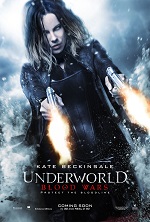 Underworld: Blood Wars
Screen Gems
Director: Anna Foerster
Screenplay: Cory Goodman, based on characters created by Kevin Grevioux, Len Wiseman and Danny McBride
Starring: Kate Beckinsale, Theo James, Lara Pulver, Tobias Menzies, Charles Dance, Daisy Head, James Faulkner, Clementine Nicholson, Peter Andersson and Oliver Stark
Rated R / 1 hour, 31 minutes / 2.35:1
January 13, 2017


(out of four)
Below is an oral history of the events depicted in the new motion picture Underworld: Blood Wars, as told exclusively to IGMS.
Selene (vampire, Death Dealer, immortal): Everyone is always asking me about the Blood Wars. But ... [long pause] ... what you have to understand is - and this is an important point - it was literally a war over blood. Like actual, physical blood. People think it's a metaphor. [takes a drag on a cigarette] Make no mistake, it was no metaphor.
Eve (Selene's bastard daughter, vampire/Lycan hybrid, child): Yeah, OK, fine. It was my blood, alright? Ya caught me. I'm a vampire/werewolf hybrid. I'm an abomination. Get over it. I mean how many times do I have to get dragged into this? Yes, everybody: I was responsible for all of the Blood Wars. Happy?
[takes a drag on a cigarette]
Oh, this? Don't worry about it - Mummy said I could have a ciggy. What, is it gonna give me lung cancer or stunt my growth or something? I'm sort of immortal. Honestly, I have no idea if I'm even supposed to be aging. Aren't vampires supposed to be ageless or something? I don't know the rules. My parents never tell me anything; they're always out of town murdering each other's relatives.
Selene: OK, yes, I allow Eve to enjoy a ciggy now and again - it's the least I can do for shagging that half-werewolf and bringing her into this world and starting all of the Blood Wars.
Eve: I mean, that's the kind of shit I've been hearing my whole life. "If you hadn't been born, everybody wouldn't be trying to kill us and steal your blood all the time." "If you hadn't been born, there would be peace and happiness." I'm so over it.
Anyway, I don't even know why you're asking me, I never even show up on screen.
Selene: I know what everyone's thinking, and yes, I get the irony, if you have to ask. Me, of all people, having an unplanned pregnancy, when literally my entire wardrobe is made of latex. I'm aware. But, and I hate to have to bring this up, you must remember that I wasn't even conscious when Eve was born. I was in, what was it, a vampire prison coma or something? I mean, if I'd known I was pregnant with the future catalyst for the Blood Wars, let me tell you, I'd have ... [turns to Eve] cover your ears, darling ... I'd have taken care of it right then and there. Boom. No more Blood Wars. Could've avoided this whole thing. [turns to Eve] Weren't so immortal back then, were you?
Eve: Wait, what?
Selene: Nothing. [another drag on her cigarette]
In any case, her father wasn't any help.
Michael Corvin (vampire/Lycan hybrid, Selene's lover, Eve's father): Whoa whoa whoa, Selene said that? Alright, here's the thing - do you know how hard it is to find a job around here when you sired the kid who basically started the Blood Wars? You know that's what this is all about, right? You know what I've had to deal with because of her? I got killed, I came back to life, I got killed again ... excuse me if I had to go into hiding and store my terrifying celebrity daughter in a top-secret location. I'm not the one with the magic blood that can make unstoppable armies, alright?
Selene: Sorry, where were we? Oh, right, the start of the Blood Wars. I remember it like it was yesterday. I mean, I narrated the whole thing. I narrate things a lot. Our world can get pretty confusing, so I'm constantly sort of explaining and re-explaining everything that's happened and who's related to whom and who's mad at whom and what everybody's names are ... we've all been alive for hundreds, if not thousands of years, and we only get into major adventures every three or so years, so it's a lot to take in. A lot to remember.
But those days are hard to forget. First of all, there were hardly any of us left. Vampires, I mean. And I was still exiled back then, can you believe it? Here I am, the best fighter, puncher, kicker, shooter, cartwheeler of all the vampires, and they exile me - me! - and all just for killing two of my own kind! Madness. Those two I killed were baddies! It's not like I killed any of the nice ones - and still they were all like, 'oh no, look what you've done Selene, how could you Selene, now you're kicked out forever even though we definitely can't beat the Lycans without you.' Who were they kidding.
Semira (vampire, high-ranking councilwoman, dominatrix): I deserve a little bit of credit here. I was the one who brought Selene back out of exile, yeah? That was me. Say all you want about the fact that I immediately betrayed her and tried to have her killed - she still wouldn't have been there to fight the Lycans without me. You're welcome.
Selene: Yeah, that bitch betrayed me. I somehow ... didn't see that coming.
Thomas (vampire elder, Lannister patriarch): In fairness to Selene, I didn't see it coming, either. Semira argued that we should bring Selene back to train everyone on how to fight the Lycans, and who was I to argue? We were desperate, the Lycans were on the verge of wiping us out. So she killed a couple of her own people way back when ... I say let bygones be bygones. Because really, she was our only hope. We had to bring her back, and there was nothing at all suspicious about Semira suddenly being in favor of it and then immediately retreating to her secret chamber with her Death Dealer boyfriend.
Semira: [vapes]
Varga (high-ranking Death Dealer, Semira's submissive lover): Semira can take all the credit she wants, I was the one who had to get into a cage match with Selene - the greatest Death Dealer of all-time, as far as I'm concerned - secretly poison her, and then kill all of the other Death Dealers. I did that. Semira just stood there with an icy stare. I mean it was her plan and all, but I had to do the dirty work, so let's at least spread the credit around a bit.
Semira: It was a perfect plan that I came up with. Truly perfect. Check this: I say I'm going to do one thing, but then I do something different instead. Pretend to be good when I'm actually bad. Classic misdirect. [vapes]
David (Thomas' son, Selene's protégé): If Papa and I hadn't gotten there in time, Selene would surely have been dead. It was a heroic rescue by me, and I hoped it would lead to Selene taking me for a lover.
Selene: David? As my lover? Oh that's adorable but no, no, it would be like sleeping with my student or something. No, definitely not. He's very loyal and that's absolutely charming but my god, I'm literally hundreds of years older than him.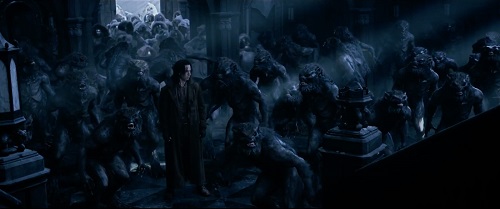 Semira: See, that's what separates the two of us, me and Selene. I would have taken David for a lover in a heartbeat, no questions asked. Did you see all the things Varga did just because I told him to? For all the problems I had with Marius - he's a Lycan, he was trying to kill all the vampires, he was my strategic arch-rival - we do have that in common, at least. We have no hesitation using sex to entice pawns into doing our bidding. We didn't get where we are by respecting boundaries and pursuing mutual respect with our sexual companions. We're baddies, after all, get used to it. Did you know Marius even took one of my own Death Dealing vampires for a lover? I knew all along, of course, but you have to respect the strategy.
Marius (Lycan leader and warrior): [grins] Guilty! Yeah ... yeah, I did. It was remarkable, really. I got this little tart - this young redhead vampire - to completely go against her own kind. Can you believe it? Completely gave away all their secrets, just like that. Alexia, I think her name was. Like, what did she think? That when I, Marius, led the Lycans to underworld domination, she'd get to come along and be a part of it? Don't make me laugh.
I mean, really, don't try to make me laugh. I don't even know how. No one in our world has ever laughed. Lycans, vampires, none of us. Our world is very serious and dark and grim and there is no levity whatsoever.
[Editor's Note: Alexia could not be reached for comment.]
Marius: Anyway, yes, back then I was trying to get my hands on Eve, and why not? Her blood would have given me a whole army to myself. That's just good strategy is what that is. Semira wouldn't've done the same? We were at war, alright? Blood war. It's right there in the name.
Selene: Well Marius definitely had the upper hand at that point, I'll give him that. He had that little tart Alexia in his back pocket, god knows how many of our secrets she gave up -
Marius: All of them.
Selene: In any case, we had to come up with a new plan. Someone - can't remember who - suggested, 'Hey, why don't you go see the Snowy Viking Albino Vampires? They might be able to help.' Brilliant. Perfect idea, if only Alexia hadn't given up our whole plan.
Snowy Viking Albino Vampire #1: [sigh] Yes, of course I remember when Selene and her little friends arrived. Frankly, we didn't ask for it. We were just minding our business - as usual. And then these clowns show up - some of them completely impervious to sunlight all of a sudden, which I would call a red flag if the color red actually existed in our world - and what, we're not supposed to help them beat the werewolves?
Snowy Viking Albino Vampire #2: Well, sure, we were perfectly willing to help, given the circumstances. The problem was, once the Lycans showed up, we could barely even tell the difference between the two. I mean, they're all wearing black and they almost all have dark hair, they all just look the bloody same. Until the Lycans started transforming, how were we even supposed to know who was who?
Marius: Alright, now hold on, because I have to take issue with this. This really pisses me off. It's the vampires who were wearing black. We Lycans were wearing very, very dark brown. It's completely different. We worked really hard on our outfits, and getting them just right, and I'm sick and tired of everyone getting us confused with those garishly dressed vampires just because they refuse to pay attention to the subtleties of our palette.
Cold Metallic Light Blue: I admit, this is partially my fault. I was basically the dominant color throughout all of the Blood Wars. This is my story as much as Selene's or anyone else's. And at a distance, everything more or less looked the same when filtered through me. It's not the Snowy Viking Albino Vampires' fault if they got confused.
The Moon (celestial body, in perpetual orbit around the Earth): I'm with Cold Metallic Light Blue on this one. If you remember, all the fighting took place at night - obviously - and I was there for the whole thing, just basically like a giant, glowing, all-seeing god right up there in the sky, right? And even I had trouble telling the two apart. If I could get some primary colors to illuminate, I might have been able to make it look a little more interesting, shake things up a bit. And then maybe everyone wouldn't have been so confused about who they were supposed to be killing.
Marius: Oh ya know what? Screw this. We looked just fine. Our costumes were awesome. They were a very distinctive dark brown that made us really stand out - everyone says so, and it's something you're hearing more and more. But guess what, it didn't even matter, because we could just turn into werewolves whenever we got angry and guess who's confused about our wardrobe choices then? That's right - nobody. We'd just rip your throats out, how's that for a confusing color scheme. [rips off microphone and storms off]
Selene: Well of course they're at an advantage in the middle of combat - they get to be naked and unconstricted, with their werewolf willies flapping freely about all over the place. Us, we have to fight in these tight latex onesies. Have you seen this shit? You try delivering a fatal roundhouse kick in this nonsense. But fine, I get it, those are the rules, this is our fighting uniform. Whatever. I'm used to it, but I don't have to like it.
Snowy Viking Albino Vampire #1: We definitely have our own thing going, with our white coats and platinum hair and all. But our big advantage was we had this whole spirit realm thing that, if I do say so myself, basically proved to be a turning point in the Blood Wars.
Selene: It really was. I mean, it's all in the history books at this point, we all know what happened - no need to rehash every little detail leading up to and including the climactic battle, all those little twists and turns. But look, it's not like I was going to die again, yeah? They tried to kill me once before and that was a mistake, wasn't it.
Eve: Let me guess, Mom bragged about how important she was to the Blood Wars, right? Typical. I mean, don't mind me, I was only the target of a worldwide manhunt that nearly brought down two ancient races of supernatural beings. No big deal.
Selene: We all know it isn't over. These little skirmishes between vampires and Lycans can practically go on forever. We'll probably just keep on looking for cheaper and cheaper ways to do it. But make no mistake, I'm not going anywhere. The Blood Wars were basically the start of a whole new chapter for me. I'll see you in three years.
Read more by Chris Bellamy