Eye For Eye
by Orson Scott Card
Eye for Eye was published in 1990 as a Tor double novel, along with "Tunesmith" by Lloyd Biggle, Jr. It is currently out of print, although it is available as an audiobook.

Part 2


. . . continued from issue 17 . . .
Except that along about six o'clock in the evening I woke up and the car was stopping and I didn't know where I was, I must have slept all day, and the guy says to me, "Here you are, Eden, North Carolina."
And I about messed my pants. "Eden!" I says.
"It wasn't far out of my way," he says. "I'm heading for Burlington, and these country roads are nicer than the freeway, anyway. Don't mind if I never drive I-85 again, to tell the truth."
But that was the very guy who told me he had business in D.C., he was heading there from Bristol, had to see somebody from a government agency, and here he was in Eden. It made no sense at all, except for what that woman told me. Somebody was calling me, and if I wouldn't come, they'd just put me to sleep and call whoever was driving. And there I was. Eden, North Carolina. Scared to death, or at least scared a little, but also thinking, if what she said was true, my folks was coming, I was going to meet my folks.
Nothing much changed in the two years since I ran off from the orphanage. Nothing much ever changes in Eden, which isn't a real town anyway, just cobbled together from three little villages that combined to save money on city services. People still mostly think of them as three villages. There wasn't nobody who'd get too excited about seeing me, and there wasn't nobody I wanted to see. Nobody living, anyway. I had no idea how my folks might find me, or how I might find them, but in the meantime I went to see about the only people I ever much cared about. Hoping that they wouldn't rise up out of the grave to get even with me for killing them.
It was still full day that time of year, but it was whippy weather, the wind gusting and then holding still, a big row of thunderclouds off to the southwest, the sun sinking down to get behind them. The kind of afternoon that promises to cool you off, which suited me fine. I was still pretty dusty from my climb up the hill that morning, and I could use a little rain. Got a Coke at a fast food place and then walked on over to see Old Peleg.
He was buried in a little cemetery right by an old Baptist Church. Not Southern Baptist, Black Baptist, meaning that it didn't have no fancy building with classrooms and a rectory, just a stark-white block of a building with a little steeple and a lawn that looked like it'd been clipped by hand. Cemetery was just as neat-kept. Nobody around, and it was dim cause of the thunderclouds moving through, but I wasn't afraid of the graves there, I just went to Old Peleg's cross. Never knew his last name was Lindley. Didn't sound like a black man's name, but then when I thought about it I realized that no last name sounded like a Black man's name, because Eden is still just old-fashioned enough that an old black man doesn't get called by his last name much. He grew up in a Jim Crow state, and never got around to insisting on being called Mr. Lindley. Old Peleg. Not that he ever hugged me or took me on long walks or gave me that tender loving care that makes people get all teary-eyed about how wonderful it is to have parents. He never tried to be my dad or nothing. And if I hung around him much, he always gave me work to do and made damn sure I did it right, and mostly we didn't talk about anything except the work we was doing, which made me wonder, standing there, why I wanted to cry and why I hated myself worse for killing Old Peleg than for any of the other dead people under the ground in that city.
I didn't see them and I didn't hear them coming and I didn't smell my mama's perfume. But I knew they was coming, because I felt the prickly air between us. I didn't turn around, but I knew just where they were, and just how far off, because they was lively. Shedding sparks like I never saw on any living soul except myself, just walking along giving off light. It was like seeing myself from the outside for the first time in my life. Even when she was making me get all hot for her, that lady in Roanoke wasn't as lively as them. They was just like me.
Funny thing was, that wrecked everything. I didn't want them to be like me. I hated my sparkiness, and there they were, showing it to me, making me see how a killer looks from the outside. It took a few seconds to realize that they was scared of me, too. I recognized how scaredness looks, from remembering how my own bio-electrical system got shaped and changed by fear. Course I didn't think of it as a bio-electrical system then, or maybe I did cause she already told me, but you know what I mean. They was afraid of me. And I knew that was because I was giving off all the sparks I shed when I feel so mad at myself that I could bust. I was standing there at Old Peleg's grave, hating myself, so naturally they saw me like I was ready to kill half a city. They didn't know that it was me I was hating. Naturally they figured I might be mad at them for leaving me at the orphanage seventeen years ago. Serve them right, too, if I gave them a good hard twist in the gut, but I don't do that, I honestly don't, not any more, not standing there by Old Peleg who I loved a lot more than these two strangers, I don't act out being a murderer when my shadow's falling across his grave.
So I calmed myself down as best I could and I turned around and there they was, my mama and my daddy. And I got to tell you I almost laughed. All those years I watched them TV preachers, and we used to laugh till our guts ached about how Tammy Bakker always wore makeup so thick she could be black underneath (it was okay to say that cause Old Peleg himself said it first) and here was my mama, wearing just as much makeup and her hair sprayed so thick she could work construction without a hardhat. And smiling that same sticky phony smile, and crying the same gooey oozey black tears down her cheeks, and reaching out her hands just the right way so I halfway expected her to say, "Praise to Lord Jesus," and then she actually says it, "Praise to Lord Jesus, it's my boy," and comes up and lays a kiss on my cheek with so much spit in it that it dripped down my face.
I wiped the slobber with my sleeve and felt my daddy have this little flash of anger, and I knew that he thought I was judging my mama and he didn't like it. Well, I was, I got to admit. Her perfume was enough to knock me over, I swear she must've mugged an Avon lady. And there was my daddy in a fine blue suit like a businessman, his hair all blow-dried, so it was plain he knew just as well as I did the way real people are supposed to look. Probably he was plain embarrassed to be seen in public with Mama, so why didn't he ever just say, Mama, you wear too much makeup? That's what I thought, and it wasn't till later that I realized that when your woman is apt to give you cancer if you rile her up, you don't go telling her that her face looks like she slept in wet sawdust and she smells like a whore. White trash, that's what my mama was, sure as if she was still wearing the factory label.
"Sure am glad to see you, Son," says my daddy.
I didn't know what to say, tell the truth. I wasn't glad to see them, now that I saw them, because they wasn't exactly what a orphan boy dreams his folks is like. So I kind of grinned and looked back down at Old Peleg's grave.
"You don't seem too surprised to see us," he says.
I could've told him right then about the lady in Roanoke, but I didn't. Just didn't feel right to tell him. So I says, "I felt somebody was calling me back here. And you two are the only people I met who's as sparky as me. If you all say you're my folks, then I figure it must be so."
Mama giggled and she says to him, "Listen, Jesse, he calls it 'sparky.'"
"The word we use is 'dusty,' Son," says Daddy. "We say a body's looking dusty when he's one of us."
"You were a very dusty baby," says Mama. "That's why we knew we couldn't keep you. Never seen such a dusty baby before. Papa Lem made us take you to the orphanage before you even sucked one time. You never sucked even once." And her mascara just flooded down her face.
"Now Deeny," says Daddy, "no need telling him everything right here."
Dusty. That made no sense at all. It didn't look like dust, it was flecks of light, so bright on me that sometimes I had to squint just to see my own hands through the dazzle. "It don't look like dust," I says.
And Daddy says, "Well what do you think it looks like?"
And I says, "Sparks. That's why I call it being sparky."
"Well that's what it looks like to us, too," says Daddy. "But we've been calling it 'dusty' all our lives, and so I figure it's easier for one boy to change than for f -- for lots of other folks."
Well, now, I learned a lot of things right then from what he said. First off, I knew he was lying when he said it looked like sparks to them. It didn't. It looked like what they called it. Dust. And that meant that I was seeing it a whole lot brighter than they could see it, and that was good for me to know, especially because it was plain Daddy didn't want me to know it and so he pretended that he saw it the same way. He wanted me to think he was just as good at seeing as I was. Which meant that he sure wasn't. And I also learned that he didn't want me to know how many kinfolk I had, cause he started to say a number that started with F, and then caught himself and didn't say it. Fifty? Five hundred? The number wasn't half so important as the fact that he didn't want me to know it. They didn't trust me. Well, why should they? Like the lady said, I was better at this than they were, and they didn't know how mad I was about being abandoned, and the last thing they wanted to do was turn me loose killing folks. Especially themselves.
Well I stood there thinking about that stuff and pretty soon it makes them nervous and Mama says, "Now, Daddy, he can call it whatever he wants, don't go making him mad or something."
And Daddy laughs and says, "He isn't mad, are you, Son?"
Can't they see for themselves? Course not. Looks like dust to them, so they can't see it clear at all.
"You don't seem too happy to see us," says Daddy.
"Now, Jesse," says Mama, "don't go pushing. Papa Lem said don't you push the boy, you just make his acquaintance, you let him know why we had to push him out of the nest so young, so now you explain it Daddy, just like Papa Lem said to."
For the first time then it occurred to me that my own folks didn't want to come fetch me. They came because this Papa Lem made them do it. And you can bet they hopped and said yes, knowing how Papa Lem used his -- but I'll get to Papa Lem in good time, and you said I ought to take this all in order, which I'm mostly trying to do.
Anyway Daddy explained it just like the lady in Roanoke, except he didn't say a word about bio-electrical systems, he said that I was "plainly chosen" from the moment of my birth, that was "one of the elect," which I remembered from Baptist Sunday School meant that I was one that God had saved, though I never heard of anybody who was saved the minute they was born and not even baptized or nothing. They saw how dusty I was and they knew I'd kill a lot of people before I got old enough to control it. I asked them if they did it a lot, putting a baby out to be raised by strangers.
"Oh, maybe a dozen times," says Daddy.
"And it always works out okay?" says I.
He got set to lie again, I could see it by ripples in the light, I didn't know lying could be so plain, which made me glad they saw dust instead of sparks. "Most times," he says.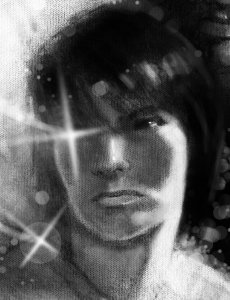 "I'd like to meet one of them others," says I. "I figure we got a lot in common, growing up thinking our parents hated us, when the truth was they was scared of their own baby."
"Well they're mostly grown up and gone off," he says, but it's a lie, and most important of all was the fact that here I as much as said I thought they wasn't worth horse pucky as parents and the only thing Daddy can think of to say is why I can't see none of the other "orphans," which tells me that whatever he's lying to cover up must be real important.
But I didn't push him right then, I just looked back down at Old Peleg's grave and wondered if he ever told a lie in his life.
Daddy says, "I'm not surprised to find you here." I guess he was nervous, and had to change the subject. "He's one you dusted, isn't he?"
Dusted. That word made me so mad. What I done to Old Peleg wasn't dusting. And being mad must have changed me enough they could see the change. But they didn't know what it meant, cause Mama says to me, "Now, Son, I don't mean to criticize, but it isn't right to take pride in the gifts of God. That's why we came to find you, because we need to teach you why God chose you to be one of the elect, and you shouldn't glory in yourself because you could strike down your enemies. Rather you should give all glory to the Lord, praise his name, because we are his servants."
I like to puked, I was so mad at that. Glory! Old Peleg, who was worth ten times these two phony white people who tossed me out before I ever sucked tit, and they thought I should give the glory for his terrible agony and death to God? I didn't know God all that well, mostly because I thought of him as looking as pinched up and serious as Mrs. Bethel who taught Sunday School when I was little, until she died of leukemia, and I just never had a thing to say to God. But if God gave me that power to strike down Old Peleg, and God wanted the glory for it when I was done, then I did have a few words to say to God. Only I didn't believe it for a minute. Old Peleg believed in God, and the God he believed in didn't go striking an old black man dead because a dumb kid got pissed off at him.
But I'm getting off track in the story, because that was when my father touched me for the first time. His hand was shaking. And it had every right to shake, because I was so mad that a year ago he would've been bleeding from the colon before he took his hand away. But I'd got so I could keep from killing whoever touched me when I was mad, and the funny thing was that his hand shaking kind of changed how I felt anyway. I'd been thinking about how mad I was that they left me and how mad I was that they thought I'd be proud of killing people but now I realized how brave they was to come fetch me, cause how did they know I wouldn't kill them? But they came anyway. And that's something. Even if Papa Lem told them to do it, they came, and now I realized that it was real brave for Mama to come kiss me on the cheek right then, because if I was going to kill her, she touched me and gave me a chance to do it before she even tried to explain everything. Maybe it was her strategy to win me over or something, but it was still brave. And she also didn't approve of people being proud of murder, which was more points in her favor. And she had the guts to tell me so right to my face. So I chalked up some points for Mama. She might look like as sickening as Tammy Bakker, but she faced her killer son with more guts than Daddy had.
He touched my shoulder and they led me to their car. A Lincoln Town Car, which they probably thought would impress me, but all I thought about was what it would've been like at the Children's Home if we'd had the price of that car, even fifteen years ago. Maybe a paved basketball court. Maybe some decent toys that wasn't broken-up hand-me-downs. Maybe some pants with knees in them. I never felt so poor in my life as when I slid onto that fuzzy seat and heard the stereo start playing elevator music in my ear.
There was somebody else in the car. Which made sense. If I'd killed them or something, they'd need somebody else to drive the car home, right? He wasn't much, when it came to being dusty or sparky or whatever. Just a little, and in rhythms of fear, too. And I could see why he was scared, cause he was holding a blindfold in his hands, and he says, "Mr. Yow, I'm afraid I got to put this on you."
Well, I didn't answer for a second, which made him more scared cause he thought I was mad, but mostly it took me that long to realize he meant me when he said "Mr. Yow."
"That's our name, Son," says my daddy. "I'm Jesse Yow, and your mother is Minnie Rae Yow, and that makes you Mick Yow."
"Don't it figure," says I. I was joking, but they took it wrong, like as if I was making fun of their name. But I been Mick Winger so long that it just feels silly calling myself Yow, and the fact is it is a funny name. They said it like I should be proud of it, though, which makes me laugh, but to them it was the name of God's Chosen People, like the way the Jews called themselves Israelites in the Bible. I didn't know that then, but that's the way they said it, real proud. And they was ticked off when I made a joke, so I helped them feel better by letting Billy -- Billy's the name of the man in the car -- put on the blindfold.
It was a lot of country roads, and a lot of country talk. About kinfolk I never met, and how I'd love this person and that person, which sounded increasingly unlikely to me, if you know what I mean. A long-lost child is coming home and you put a blindfold on him. I knew we were going mostly east, cause of the times I could feel the sun coming in my window and on the back of my neck, but that was about it, and that wasn't much. They lied to me, they wouldn't show me nothing, they was scared of me. I mean, any way you look at it, they wasn't exactly killing the fatted calf for the prodigal son. I was definitely on probation. Or maybe even on trial. Which, I might point out, is exactly the way you been treating me, too, and I don't like it much better now than I did then, if you don't mind me putting some personal complaints into this. I mean, somewhere along the line somebody's going to have to decide whether to shoot me or let me go, because I can't control my temper forever locked up like a rat in a box, and the difference is a rat can't reach out of the box and blast you the way I can, so somewhere along the way somebody's going to have to figure out that you better either trust me or kill me. My personal preference is for trusting me, since I've given you more reason to trust me than you've given me to trust you so far.
But anyway I rode along in the car for more than an hour. We could have gotten to Winston or Greensboro or Danville by then, it was so long, and by the time we got there nobody was talking and from the snoring, Billy was even asleep. I wasn't asleep, though. I was watching. Cause I don't see sparks with my eyes, I see it with something else, like as if my sparks see other folks' sparks, if you catch my drift, and so that blindfold might've kept me from seeing the road, but it sure didn't keep me from seeing the other folks in the car with me. I knew right where they were, and right what they were feeling. Now, I've always had a knack for telling things about people, even when I couldn't see nary a spark or nothing, but this was the first time I ever saw anybody who was sparky besides me. So I sat there watching how Mama and Daddy acted with each other even when they wasn't touching or saying a thing, just little drifts of anger or fear or -- well, I looked for love, but I didn't see it, and I know what it looks like, cause I've felt it. They were like two armies camped on opposite hills, waiting for the truce to end at dawn. Careful. Sending out little scouting parties.
Then the more I got used to understanding what my folks was thinking and feeling, toward each other, the easier it got for me to read what Billy had going on inside him. It's like after you learn to read big letters, you can read little letters, too, and I wondered if maybe I could even learn to understand people who didn't have hardly any sparks at all. I mean that occurred to me, anyway, and since then I've found out that it's mostly true. Now that I've had some practice I can read a sparky person from a long ways off, and even regular folks I can do a little reading, even through walls and windows. But I found that out later. Like when you guys have been watching me through mirrors. I can also see your microphone wires in the walls.
Anyway it was during that car ride that I first started seeing what I could see with my eyes closed, the shape of people's bio-electrical system, the color and spin of it, the speed and the flow and the rhythm and whatever, I mean those are the words I use, cause there isn't exactly a lot of books I can read on the subject. Maybe that Swedish doctor has fancy words for it. I can only tell you how it feels to me. And in that hour I got to be good enough at it that I could tell Billy was scared, all right, but he wasn't all that scared of me, he was mostly scared of Mama and Daddy. Me he was jealous of, angry kind of. Scared a little, too, but mostly mad. I thought maybe he was mad cause I was coming in out of nowhere already sparkier than him, but then it occurred to me that he probably couldn't even tell how sparky I was, because to him it'd look like dust, and he wouldn't have enough of a knack at it to see much distinction between one person and another. It's like the more light you give off, the clearer you can see other people's light. So I was the one with the blindfold on, but I could see clearer than anybody else in the car.
We drove on gravel for about ten minutes, and then on a bumpy dirt road, and then suddenly on asphalt again, smooth as you please, for about a hundred yards, and then we stopped. I didn't wait for a by-your-leave, I had that blindfold off in half a second.
It was like a whole town of houses, but right among the trees, not a gap in the leaves overhead. Maybe fifty, sixty houses, some of them pretty big, but the trees made them half invisible, it being summer. Children running all over, scruffy dirty kids from diapered-up snot-nose brats to most-growed kids not all that much younger than me. They sure kept us cleaner in the Children's Home. And they was all sparky. Mostly like Billy, just a little, but it explained why they wasn't much washed. There isn't many a mama who'd stuff her kid in a tub if the kid can make her sick just by getting mad.
It must've been near eight-thirty at night, and even the little kids still wasn't in bed. They must let their kids play till they got wore out and drop down and fall asleep by themselves. It came to me that maybe I wasn't so bad off growing up in an orphanage. At least I knew manners and didn't whip it out and pee right in front of company, the way one little boy did, just looking at me while I got out of the car, whizzing away like he wasn't doing nothing strange. Like a dog marking trees. He needed to so he done it. If I ever did that at the Children's Home they'd've slapped me silly.
I know how to act with strangers when I'm hitching a ride, but not when I'm being company, cause orphans don't go calling much so I never had much experience. So I'd've been shy no matter what, even if there wasn't no such thing as sparkiness. Daddy was all set to take me to meet Papa Lem right off, but Mama saw how I wasn't cleaned up and maybe she guessed I hadn't been to the toilet in a while and so she hustled me into a house where they had a good shower and when I came out she had a cold ham sandwich waiting for me on the table. On a plate, and the plate was setting on a linen place mat, and there was a tall glass of milk there, so cold it was sweating on the outside of the glass. I mean, if an orphan kid ever dreamed of what it might be like to have a mama, that was the dream. Never mind that she didn't look like a model in the Sears catalog. I felt clean, the sandwich tasted good, and when I was done eating she even offered me a cookie.
It felt good, I'll admit that, but at the same time I felt cheated. It was just too damn late. I needed it to be like this when I was seven, not seventeen.
But she was trying, and it wasn't all her fault, so I ate the cookie and drank off the last of the milk and my watch said it was after nine. Outside it was dusk now, and most of the kids were finally gone off to bed, and Daddy comes in and says, "Papa Lem says he isn't getting any younger."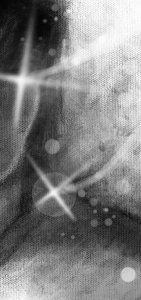 He was outside, in a big rocking chair sitting on the grass. You wouldn't call him fat, but he did have a belly on him. And you wouldn't call him old, but he was bald on top and his hair was wispy yellow and white. And you wouldn't call him ugly, but he had a soft mouth and I didn't like the way it twisted up when he talked.
Oh, hell, he was fat, old, and ugly, and I hated him from the first time I saw him. A squishy kind of guy. Not even as sparky as my daddy, neither, so you didn't get to be in charge around here just by having more of whatever it was made us different. I wondered how close kin he was to me. If he's got children, and they look like him, they ought to drown them out of mercy.
"Mick Yow," he says to me, "Mick my dear boy, Mick my dear cousin."
"Good evening, sir," says I.
"Oh, and he's got manners," says he. "We were right to donate so much to the Children's Home. They took excellent care of you."
"You donated to the home?" says I. If they did, they sure didn't give much.
"A little," he says. "Enough to pay for your food, your room, your Christian education. But no luxuries. You couldn't grow up soft, Mick. You had to grow up lean and strong. And you had to know suffering, so you could be compassionate. The Lord God has given you a marvelous gift, a great helping of his grace, a heaping plateful of the power of God, and we had to make sure you were truly worthy to sit up to the table at the banquet of the Lord."
I almost looked around to see if there was a camera, he sounded so much like the preachers on TV.
And he says, "Mick, you have already passed the first test. You have forgiven your parents for leaving you to think you were an orphan. You have kept that holy commandment, Honor thy father and mother, that thy days may be long upon the land which the Lord thy God hath given thee. You know that if you had raised a hand against them, the Lord would have struck you down. For verily I say unto you that there was two rifles pointed at you the whole time, and if your father and mother had walked away without you, you would have flopped down dead in that nigra cemetery, for God will not be mocked."
I couldn't tell if he was trying to provoke me or scare me or what, but either way, it was working.
"The Lord has chosen you for his servant, Mick, just like he's chosen all of us. The rest of the world doesn't understand this. But Grandpa Jake saw it. Long ago, back in 1830, he saw how everybody he hated had a way of dying without him lifting a finger. And for a time he thought that maybe he was like those old witches, who curse people and they wither up and die by the power of the devil. But he was a god-fearing man, and he had no truck with Satan. He was living in rough times, when a man was likely to kill in a quarrel, but Grandpa Jake never killed. Never even struck out with his fists. He was a peaceable man, and he kept his anger inside him, as the Lord commands in the New Testament. So surely he was not a servant of Satan!"
Papa Lem's voice rang through that little village, he was talking so loud, and I noticed there was a bunch of people all around. Not many kids now, all grownups, maybe there to hear Lem, but even more likely they was there to see me. Because it was like the lady in Roanoke said, there wasn't a one of them was half as sparky as me. I didn't know if they could all see that, but I could. Compared to normal folks they was all dusty enough, I suppose, but compared to me, or even to my mama and daddy, they was a pretty dim bunch.
"He studied the scriptures to find out what it meant that his enemies all suffered from tumors and bleeding and coughing and rot, and he came upon the verse of Genesis where the Lord said unto Abraham, 'I will bless them that bless thee, and curse him that curseth thee.' And he knew in his heart that the Lord had chosen him the way he chose Abraham. And when Isaac gave the blessing of God to Jacob, he said, 'Let people serve thee, and nations bow down to thee: cursed be every one that curseth thee, and blessed by he that blesseth thee.' The promises to the patriarchs were fulfilled again in Grandpa Jake, for whoever cursed him was cursed by God."
When he said those words from the Bible, Papa Lem sounded like the voice of God himself, I've got to tell you. I felt exalted, knowing that it was God who gave such power to my family. It was to the whole family, the way Papa Lem told it, because the Lord promised Abraham that his children would be as many as there was stars in the sky, which is a lot more than Abraham knew about seeing how he didn't have no telescope. And that promise now applied to Grandpa Jake, just like the one that said "in thee shall all families of the earth be blessed." So Grandpa Jake set to studying the book of Genesis so he could fulfil those promises just like the patriarchs did. He saw how they went to a lot of trouble to make sure they only married kinfolk -- you know how Abraham married his brother's daughter, Sarah, and Isaac married his cousin Rebekah, and Jacob married his cousins Leah and Rachel. So Grandpa Jake left his first wife cause she was unworthy, meaning she probably wasn't particularly sparky, and he took up with his brother's daughter and when his brother threatened to kill him if he laid a hand on the girl, Grandpa Jake run off with her and his own brother died of a curse which is exactly what happened to Sarah's father in the Bible. I mean Grandpa Jake worked it out just right. And he made sure all his sons married their first cousins, and so all of them had sparkiness twice over, just like breeding pointers with pointers and not mixing them with other breeds, so the strain stays pure.
There was all kinds of other stuff about Lot and his daughters, and if we remained faithful then we would be the meek who inherit the Earth because we were the chosen people and the Lord would strike down everybody who stood in our way, but what it all came down to at the moment was this: You marry whoever the patriarch tells you to marry, and Papa Lem was the patriarch. He had my mama marry my daddy even though they never particularly liked each other, growing up cousins, because he could see that they was both specially chosen, which means to say they was both about the sparkiest there was. And when I was born, they knew it was like a confirmation of Papa Lem's decision, because the Lord had blessed them with a kid who gave off dust thicker than a dump truck on a dirt road.
One thing he asked me real particular was whether I ever been laid. He says to me, "Have you spilled your seed among the daughters of Ishmael and Esau?"
I knew what spilling seed was, cause we got lectures about that at the Children's Home. I wasn't sure who the daughters of Ishmael and Esau was, but since I never had a hot date, I figured I was pretty safe saying no. Still, I did consider a second, because what came to mind was the lady in Roanoke, stoking me up just by wanting me, and I was thinking about how close I'd come to not being a virgin after all. I wondered if the lady from Roanoke was a daughter of Esau.
Papa Lem picked up on my hesitation, and he wouldn't let it go. "Don't lie to me boy. I can see a lie." Well, since I could see a lie, I didn't doubt but what maybe he could too. But then again, I've had plenty of grownups tell me they could spot a lie -- but half the time they accused me of lying when I was telling the truth, and the other half believed me when I was telling whoppers so big it'd take two big men to carry them upstairs. So maybe he could and maybe he couldn't. I figured I'd tell him just as much truth as he wanted. "I was just embarrassed to tell you I never had a girl," I says.
"Ah, the deceptions of the world," he says. "They make promiscuity seem so normal that a boy is ashamed to admit that he is chaste." Then he got a glint in his eye. "I know the children of Esau have been watching you, wanting to steal your birthright. Isn't that so?"
"I don't know who Esau is," says I.
The folks who was gathered around us started muttering about that.
I says, "I mean, I know who he was in the Bible, he was the brother of Jacob, the one who sold him his birthright for split pea soup."
"Jacob was the rightful heir, the true eldest son," says Papa Lem, "and don't you forget it. Esau is the one who went away from his father, out into the wilderness, rejecting the things of God and embracing the lies and sins of the world. Esau is the one who married a strange woman, who was not of the people! Do you understand me?"
I understood pretty good by then. Somewhere along the line somebody got sick of living under the thumb of Papa Lem, or maybe the patriarch before him, and they split.
"Beware," says Papa Lem, "because the children of Esau and Ishmael still covet the blessings of Jacob. They want to corrupt the pure seed of Grandpa Jake. They have enough of the blessing of God to know that you're a remarkable boy, like Joseph who was sold into Egypt, and they will come to you with their whorish plans, the way Potiphar's wife came to Joseph, trying to persuade you to give them your pure and undefiled seed so that they can have the blessing that their fathers rejected."
I got to tell you that I didn't much like having him talk about my seed so much in front of mixed company, but that was nothing compared to what he did next. He waved his hand to a girl standing there in the crowd, and up she came. She wasn't half bad-looking, in a country sort of way. Her hair was mousy and she wasn't altogether clean and she stood with a two-bucket slouch, but her face wasn't bad and she looked to have her teeth. Sweet, but not my type, if you know what I mean.
Papa Lem introduced us. It was his daughter, which I might have guessed, and then he says to her, "Wilt thou go with this man?" And she looks at me and says, "I will go." And then she gave me this big smile, and all of a sudden it was happening again, just like it did with the lady in Roanoke, only twice as much, cause after all the lady in Roanoke wasn't hardly sparky. I was standing there and all I could think about was how I wanted all her clothes off her and to do with her right there in front of everybody and I didn't even care that all those people were watching, that's how strong it was.
And I liked it, I got to tell you. I mean you don't ignore a feeling like that. But another part of me was standing back and it says to me, "Mick Winger you damn fool, that girl's as homely as the bathroom sink, and all these people are watching her make an idiot out of you," and it was that part of me that got mad, because I didn't like her making me do something, and I didn't like it happening right out in front of everybody, and I specially didn't like Papa Lem sitting there looking at his own daughter and me like we was in a dirty magazine.
Thing is, when I get mad I get all sparky, and the madder I got, the more I could see how she was doing it, like she was a magnet, drawing me to her. And as soon as I thought of it like us being magnets, I took all the sparkiness from being mad and I used it. Not to hurt her or nothing, because I didn't put it on her the way I did with the people I killed. I just kind of turned the path of her sparks plain upside down. She was spinning it just as fast as ever, but it went the other way, and the second that started, why, it was like she disappeared. I mean, I could see her all right, but I couldn't hardly notice her. I couldn't focus my eyes on her.
Papa Lem jumped right to his feet, and the other folks was gasping. Pretty quick that girl stopped sparking at me, you can bet, and there she was on her knees, throwing up. She must've had a real weak digestion, or else what I done was stronger than I thought. She was really pouring on the juice, I guess, and when I flung it back at her and turned her upside down, well, she couldn't hardly walk when they got her up. She was pretty hysterical, too, crying about how awful and ugly I was, which might've hurt my feelings except that I was scared to death.
Papa Lem was looking like the wrath of God. "You have rejected the holy sacrament of marriage! You have spurned the handmaid God prepared for you!"
Now you've got to know that I hadn't put everything together yet, or I wouldn't have been so afraid of him, but for all I knew right then he could kill me with cancer. And it was a sure thing he could've had those people beat me to death or whatever he wanted, so maybe I was right to be scared. Anyway I had to think of a way to make him not be mad at me, and what I came up with must not've been too bad because it worked, didn't it?
I says to him, as calm as I can, "Papa Lem, she was not an acceptable handmaiden." I didn't watch all those TV preachers for nothing. I knew how to talk like the Bible. I says, "She was not blessed enough to be my wife. She wasn't even as blessed as my mama. You can't tell me that she's the best the Lord prepared for me."
And sure enough, he calmed right down. "I know that," he says. And he isn't talking like a preacher any more, it's me talking like the preacher and him talking all meek. "You think I don't know it? It's those children of Esau, that's what it is, Mick, you got to know that. We had five girls who were a lot dustier than her, but we had to put them out into other families, cause they were like you, so strong they would've killed their own parents without meaning to."
And I says, "Well, you brought me back, didn't you?"
And he says, "Well, you were alive, Mick, and you got to admit that makes it easier."
"You mean those girls're all dead?" I says.
"The children of Esau," he says. "Shot three of them, strangled one, and we never found the body of the other. They never lived to be ten years old."
And I thought about how the lady in Roanoke told me she had me in her gunsights a few times. But she let me live. Why? For my seed? Those girls would've had seed too, or whatever. But they killed those girls and let me live. I didn't know why. Hell, I still don't, not if you mean to keep me locked up like this for the rest of my life. I mean you might as well have blasted my head off when I was six, and then I can name you a dozen good folks who'd still be alive, so no thanks for the favor if you don't plan to let me go.
Anyway, I says to him, "I didn't know that. I'm sorry."
And he says to me, "Mick, I can see how you'd be disappointed, seeing how you're so blessed by the Lord. But I promise you that my daughter is indeed the best girl of marriageable age that we've got here. I wasn't trying to foist her off on you because she's my daughter -- it would be blasphemous for me to try it, and I'm a true servant of the Lord. The people here can testify for me, they can tell you that I'd never give you my own daughter unless she was the best we've got."
If she was the best they got then I had to figure the laws against inbreeding made pretty good sense. But I says to him, "Then maybe we ought to wait and see if there's somebody younger, too young to marry right now." I remembered the story of Jacob from Sunday School, and since they set such store by Jacob I figured it'd work. I says, "Remember that Jacob served seven years before he got to marry Rachel. I'm willing to wait."
That impressed the hell out of him, you can bet. He says, "You truly have the prophetic spirit, Mick. I have no doubt that someday you'll be Papa in my place, when the Lord has gathered me unto my fathers. But I hope you'll also remember that Jacob married Rachel, but he first married the older daughter, Leah."
The ugly one, I thought, but I didn't say it. I just smiled and told him how I'd remember that, and there was plenty of time to talk about it tomorrow, because it was dark now and I was tired and a lot of things had happened to me today that I had to think over. I was really getting into the spirit of this Bible thing, and so I says to him, "Remember that before Jacob could dream of the ladder into heaven, he had to sleep."
Everybody laughed, but Papa Lem wasn't satisfied yet. He was willing to let the marriage thing wait for a few days. But there was one thing that couldn't wait. He looks me in the eye and he says, "Mick, you got a choice to make. The Lord says those who aren't for me are against me. Joshua said choose ye this day whom ye will serve. And Moses said, 'I call heaven and earth to record this day against you, that I have set before you life and death, blessing and cursing: therefore choose life, that both thou and thy seed may live.'"
Well I don't think you can put it much plainer than that. I could choose to live there among the chosen people, surrounded by dirty kids and a slimy old man telling me who to marry and whether I could raise my own children, or I could choose to leave and get my brains blasted out or maybe just pick up a stiff dose of cancer -- I wasn't altogether sure whether they'd do it quick or slow. I kind of figured they'd do it quick, though, so I'd have no chance to spill my seed among the daughters of Esau.
So I gave him my most solemn and hypocritical promise that I would serve the Lord and live among them all the days of my life. Like I told you, I didn't know whether he could tell if I was lying or not. But he nodded and smiled so it looked like he believed me. Trouble was, I knew he was lying, and so that meant he didn't believe me, and that meant I was in deep poo, as Mr. Kaiser's boy Greggy always said. In fact, he was pretty angry and pretty scared, too, even though he tried to hide it by smiling and keeping a lid on himself. But I knew that he knew that I had no intention of staying there with those crazy people who knocked up their cousins and stayed about as ignorant as I ever saw. Which meant that he was already planning to kill me, and sooner rather than later.
. . . to be continued in issue 19 . . .